The visitor walks into an environment of lovely summer. You can hear waves lap, sense a soothing breeze and feel the soft and warm sand between your toes. Experience a short day on the beach, from early dawn to sunset.

Select the environment you wish to experience
You decide the place and the scenery. We can build an inviting beach in a tropical country or a glittering, coastal landscape in the Swedish archipelago.

If you choose an exotic experience, we will create an environment of fine sand, lush plants and a large, horizontal background image.
If instead, you choose an idyllic archipelago, we move the sun-warmed rocks and wooden jetty into your location.
Maybe you are looking for a sophisticated and stylish spa environment that breathes exclusive enjoyment. You decide what theme that suits your requirements best.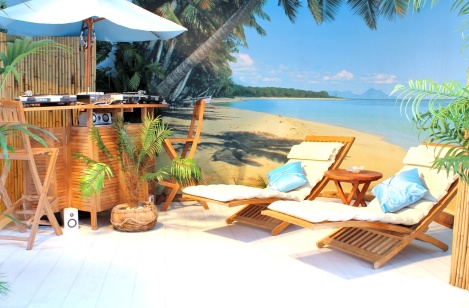 We have long experience of installing sunlight and building varying interior. We have delivered sunlight to elderly care homes, bathing facilities, spa and relaxation facilities, hotels, cruise ships, yoga studios, nature rooms, cafés and more. Tell us about your ideés and we will do our best to make your plans become reality.
An important ingredient in the environment is the background , the panorama image. We have several pictures to use from different places in the world.