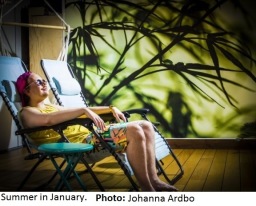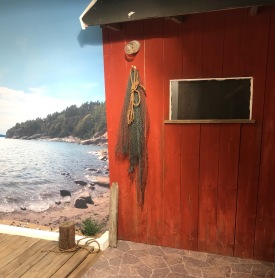 2018-12-17
Fin kustmiljö i Göteborg
Nu har Gråbergets äldreboende fått ett solrum där boende och personal kan njuta året runt. Rummet har inretts med kusttema och har många fina inredningsdetaljer.
Gråberget är först ut av tre äldreboenden som ska installera solrum i stadsdelen Majorna Linné i Göteborg.
* * * * * * *
Nice coastal environment in Gothenburg
Now the caretaker and staff, at Gråbergets elderly home in Gothenburg, can enjoy the sunlight from Suntech. When you step into the sunroom it is just like the scenery of Swedish west coast a sunny summer day. The room has been decorated
with authentic details from the archipelago in Bohuslän.
Gråberget is one out of three elderly homes who are going to install a sunroom in the district of Majorna Linné, Gothenburg.
2018-11-12
Bostadsrättsmässan 22 - 23 november Svenska Mässan Göteborg
Kom till vår monter på Bostadsrättsmässan, B09:52
Registrera dig för kostnadsfri entré, klicka på bilden!
* * * * * * *
Fair for tenant-ownership 22 - 23 November Swedish Fair in Gothenburg
Visit our stand at "Bostadsrättsmässan", B09: 52
Register for free entrance, press the picture!

2018-11-09
Bohusgården Hotell & Konferens i Uddevalla har erbjudit sina kunder solljus från Suntech sedan 2011. Nu har de installerat ytterligare en Suntech Trippel och fler besökare kan njuta av ljus och värme i deras nyrenoverade spa-avdelning.
Bohusgården Spa
* * * * * * *
Bohusgården Hotell & Konferens in Uddevalla has offered our sunlight to customers since 2011.
Now they have added one more Suntech Triple and more visitors can enjoy light and warmth in
their newly renovated spa facility.
Bohusgården Spa
2018-10-23
Lagom till kyligare och mörkare årstid kan nu de boende på Bäcklidens äldre-
boende i Vinninga strax utanför Lidköping njuta av ljus och värme i sitt nya solrum.
* * * * * * *
Just in time for the cooler and darker season, the tenants of Bäckliden's older- accommodation in Vinninga, Lidköping, can enjoy sunlight and warmth in their new sunroom from Suntech.
2018-10-10
Äldreomsorgsdagarna 18 -19 oktober Stockholmsmässan Älvsjö
Även i år kommer vi vara en av utställarna på ÄO-dagarna.
Vi brukar ha högt tryck i vår monter. Varmt välkommen att besöka oss B05:11!

Äldreomsorgsdagarna, även känd som ÄO-dagarna, är den självklara mötesplatsen för alla i äldreomsorgen och arrangeras i år för sjuttonde gången. Under två dagar kan man lyssna till föreläsare som informerar om allt från den senaste forskningen till inspiration och nya arbetsmetoder.
2018-09-26
Bostadsrättsmässan 5 - 6 oktober på Malmömässan
Kom till vår monter på Bostadsrättsmässan.
Registrera dig för kostnadsfri entré, klicka på bilden!
2018-05-04
Solsäkrat på Ursand Resort & Camping
Ursands Resort & Camping har en ny SPA-anläggning som är öppen för alla året runt. Här är det nu även garanterat högtryck alla dagar i veckan då vi utrustat anläggningen med solljus och värme.
2018-02-22
Trumslagargården vård- och omsorgsboende
Nu kan de boende på Trumslagargården i Eskilstuna njuta av solljus och värme från Suntech.